The Tyner Post Office is celebrating 140 years of service in the community.
Because of the anniversary, the Post Office is inviting people to come to an open house held until 6
p.m. and view the recent artwork display done by Marge Burkholder and enjoy free coffee and cake.
Its town post office celebrating 140 years
(By South Bend Tribune writer Linda Jones)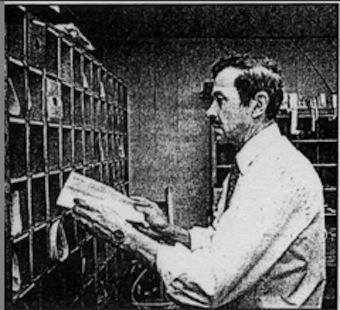 Although Tyner Postmaster Alan Burkholder sorts mail at the post office, located in his garage. It wasn't business as usual Wednesday because the town threw a 140th birthday party for the post office.
Alan Burkholder isn't lying, or exaggerating, when he says that 85 people stop at his house, actually his garage, every day.
Burkholder is the postmaster at the Tyner Post Office and as such, he got to decide where the post office was going to be located. In 1977, he moved the post office to his garage, adjacent to his home.
On Wednesday, the Tyner Post Office was recognized by this northwestern Marshall County community as being 140 years old - one year younger than the town itself. Balloons were tied outside and cake, decorated with the United States Postal Service logo, was served inside. By 11 a.m., more than 50 residents had stopped by to celebrate, and of course, to get their mail.
Spending most of the morning there with Burkholder and his wife, Marge, was the former postmaster Wanda Braner.
When she was postmaster, from 1950 to 1977, Braner operated it out of her home, too. Stamps were two cents, and computers were unimagined.
During Wednesday's celebration, Braner saw her first computer online on display at the post office.
"I think it's wonderful," Braner said. "Of course, I don't understand it."
Still, she mostly enjoyed just hanging around the post office Wednesday, as a central part of the celebration, meeting and greeting her friends and neighbors.
She said she misses the days when "everybody in town came to see me everyday, sometimes twice." she said.
That's the biggest benefit of the job, Burkholder said. He knows someone from every family in town, except for
the few that get rural delivery because they live on a main artery covered by the Plymouth or Walkerton post offices.
The USPS now rents Burkholder's garage and as a result, Burkholder built a second garage onto the post office 10 years ago. He said he hopes to be postmaster there until his retirement, and at that time, the new postmaster will have to relocate, so Burkholder can reclaim his garage.
Although it seems quaint in a small town sort of way, it works for this tiny Marshall County community of 254 residents.
Several years ago, although it really wasn't necessary, the combination locks on 103 of the 107 post office boxes were changed to a key lock. Four residents wanted to keep their combination locks on their boxes. There are 91 boxes rented out, representing the 85 families in town. Some people have two boxes, one for business and one for personal use.
Irma Shultz grew up in Tyner and said she remembers when the postmaster handed out the mail personally. "And it always came to the right place," she said.
Shultz's sister, Mavis Shank, said she really appreciates the post office in Tyner and would fight one hard battle if the USPS attempted to close it, as has been the rumor for years.
"I never want to see it go to the mailbox system," she said. "I don't trust that. Here if you don't get it for a couple of days, you know it's still safe."
Judy Bella lives in Polk township and gets her mail from Walkerton. But because of the birthday party, Bella drove into Tyner to see what all the commotion was about.
"I just wanted to see it, to hang out, and hear all these neat stories," Bella said. "I've learned a lot about Tyner, just being here."
Bella especially liked the murals on the wall, painted by Marge Burkholder. They depict scenes of Tyner, formerly called Tyner City, of things like the old IOOF Lodge (which held the post office in the first floor for many decades), and of the now gone pickle factory, grain elevator, and Baughman's Garage.
Even though there are still the occasional days when Burkholder won't sell a single stamp, progress has been made at the Tyner Post Office. Its online with the internet, automatic bank cards can be used for purchases there, and Burkholder said it is certainly the "news center" of the town.
And just so everyone knows, there are still three classes of post offices in Indiana which are smaller than the 300 square foot facility at Tyner.