The "Pickle Factory" just outside of Tyner.
Cindy Nichols
Wowee. That I do not remember at All.
Linda Drews Benjamin
I'd heard about it but have never seen it. How interesting.
Noral Baughman
It wasn't around when I was growing up; just pieces of the foundation could be seen (in the weeds). :-)
Linda Drews Benjamin
Where was it located?
John E. Fairres
Never knew
Arlen Holderread
Where was it located at
Monta Jean
What road outside Tyner ?
Allyn Flaharty
It sat north side of the tracks on vine street. Pretty much north of the tyner store, same side of the road on the other side of the tracks. 🧐 I think...
Curtiss Cole
Allyn Flaharty would that have been beyond the Grain Elevator? Or at the turn going out of town?
Allyn Flaharty
I'm not sure. I do believe it was just right on the other side of the tracks to the north, between vine st and main st.
Allyn Flaharty
I remember my grandmother talking about it.
Nathan Burch
It was out at the curve going out of town. Part of the foundation is still there. Across the tracks from the store was the hardware and lumber co. That was owned by my grandpa Nate Baker.
Allyn Flaharty
Yes, your correct that was the hardware store. I am not sure the pickle factory was that far outta town. Here is a interesting site my sister told me about though with lots of neat pictures.
http://tyner.org
Brenda Packers
Does any one have pics of the employees that worked there?
Paula Skorup
Noral I can't thank you enough for sharing these pictures
Dennis Johnson
We had a pickle factory in Walkerton
Allyn Flaharty
http://tyner.org
Allyn Flaharty
Click on old tyner, it has a bunch of info
Kirk A. Gaw
This is amazing history! Down the road from these tracks is the old boxing barn Jenny Fry was talking about a while back. Prize fighters from New York would meet up near Tyner in the Stull's barn to match against Chicago's best. The underworld sent private Pullman cars there complete with the Chicago Mayor, Sam Giancano, Al Capone, and the New York circuit. Lots of big bets happened there.
Eddie Adkins
A lot of history in tyner
Teri Showalter
I'd never seen it until now. Thanks for sharing.
Jenny Fry
July 25, 1934
Max Warren
Wasn't this located across the street from where Replogle's live? On the curve coming out of pain are heading towards Plymouth?
Barb Cole
Yes it was.
My great grandfather inside the pickle factory. Note the kerosene lamp hanging on the post in the center of the photo.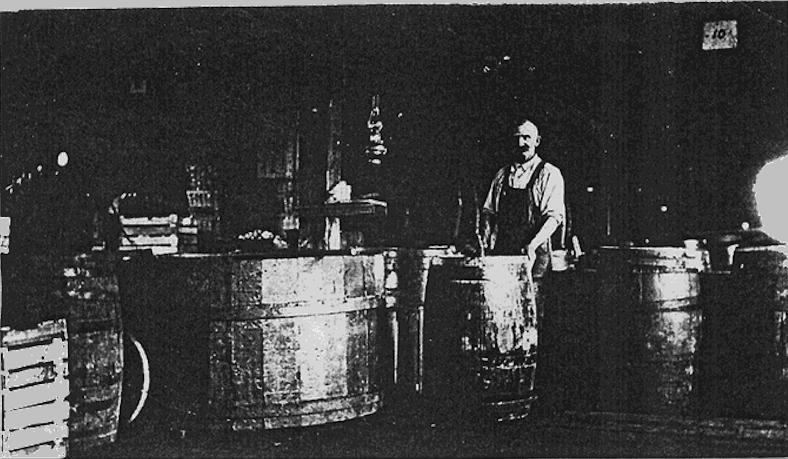 DonnaSkip Erickson
Do you have any pictures of the hardware store that sat next to the tracks?
Nathan Burch
DonnaSkip Erickson that would be neat. That was my great great grandpas store
Teri Showalter
I love this picture.
Marjorie Ecker
How can you remember that Skip ?
Alan Burkholder
Here's one..
hardware
And here is one with Nate Baker...
Baker hardware
Greg Gross
Was this before The Pickle Factory came to Plymouth In.?
Kathy Alexander
Greg Gross yes
Greg Gross
Kathy Alexander oh wow
Curtiss Cole
I never knew there was a pickle factory in Tyner..
Curtiss Cole
Most all the Businesses were gone or on the brink of going when we moved to Tyner in 1968. The lumber / Hardware was closed or closing. The Grain Elevator closed I think in 1970?? The old lodge post office was closed.. Mr. Day owned it.. The store and the house across the corner of the store.. Karns was closing.. The Light shop was closing.. Mr Bullhoffers machinery was closing.. He sold Allis Chalmers.. The truck farms.. Where Shawn Bridwell lives closed up.. Huffmans stayed open along time after. Keith Drake still did land work and construction. Frank Haag kept the Garage open for years I guess until he passed.. The elevator burned I think in 75?? The lumber yard burned about the same time..
Steve Kennedy
Wow
Paula Skorup
Oh.........to go back into these times for awhile
Noral Baughman
The operative being "for awhile." My mom almost died of diphtheria. :-(
Duncan Mitchel
Noral Baughman Good point, thank you. I was trying to decide whether to reply, "Back to the days of no penicillin, no antibiotics, poor sanitation, etc."
Barb Cole
Must have been dark in that there factory!
Noral Baughman
I'm sure it was. :-)
Tim Kazanecki
Tim Kazanecki The pickle factory was ar the curve going toward plymouth was it not the concrete for the tanks is still there for a while there are photos of large tanks that I have seen
Donna Adkins Erdelyi
Those were very hard times for many people. They were a very strong generation.
Evelyn Wilmeth
Awesome history! Love this photo.
Kim Jacobs
I love old pictures and the old ways.
Melanie Mullet Shepherd
These pictures and all the sharing going back and forth is just SO precious to me. I, too, have such strong and happy memories of my days at Tyner School. Had we stayed there for a few more years, I would have probably learned more about the community than I did as a child. My Tyner classmates were all good kids! We had the fish fries every year, too. I got a kick out of my dad seeing a lot of people that he knew while at the fish fries!! It is difficult to put all those good feelings into words. I loved that old building!!! I loved the field/playground. Plenty of room to run our legs off!!! So many sweet memories! I think there were some track hurdles out in the field near the trees that edged the road one fall or spring. Lowell Warner and I started jumping them. I thought it was fantastic!!! I'd never done something like that before and the experience was just wonderful. I remember the farm that was next to the field had cows. Sometimes we'd hear them mooing. Sometimes there were farm fragrances which wafted over towards us.
More Pickle Factory. My Great grandfather (Chase Keller) on Left; my grandfather (Jesse Keller) on right. Man standing below is unidentified.
Mike Flaugher
I never knew there was a pickle factory in Tyner...I remember one in Walkerton
Noral Baughman
One could still see remnants of the foundation when I was growing up. It was located just outside Tyner, near the curve as you leave Tyner going towards Plymouth. I would have to look at a map to give a compass direction. :-)
Barb Cole
I think some of the remnants are still there. It is going out of Plymouth where Main Street curves and turns into Rose Road. There is dirt road that crosses the tracks just before it.
Karen Stevenson
These photos are well preserved, great to see they have been well cared for.
Noral Baughman
Some of the old photos are well preserved and quite sharp. They never really got any special attention so far as preservation is concerned. I've tried scanning as many as I can in order to share with other family members and anyone else who interested. I doubt of any of the digital records will survive as long. :-(
Kirk A. Gaw
W Noral Baughman Thank you for sharing your immense collection! Cannot wait to see more? Tyner is fascinating. It's a surprise!
Noral Baughman
Kirk A. Gaw I'm planning on rebuilding the website that I started a few years ago and that seemed to get trashed or something. :-(
Kirk A. Gaw
Noral Baughman you did a really good job with the blog. Can you share the link here for our readers?
Noral Baughman
Kirk A. Gaw The site is down and hasn't been active for a year or two. Like I was saying, I'm hoping to work on it and get it back up. I have a lot of family photos to share for those who might be interested.
Kirk A. Gaw
Noral Baughman great!
Ann Lynn LeHue
Must have been a lot of pickles raised in the area at that time. Pickle factories were quite numerous.
Noral Baughman
I think they raised a lot of onions too.
Debbie Duckett
I love local history.....thanks for sharing.....
Evelyn Wilmeth
Looks like the man standing below is in management .
Kirk A. Gaw
Yep, he has a watch in his pocket.
Kirk A. Gaw
That might be either Devon or Harold Gaw? They worked for Heinz. Sure looks like one of 'em?
Noral Baughman
Kirk A. Gaw Would be nice to know for sure. The most frustrating part of looking at old photos is not being able to identify many of them. :-(
Laurie Nelson
My Grandfather, Ira Klinedinst had a Pickle Farm just outside of Tyner. They were so good!! People came clear from Chicago to buy them. It was my first job, picking pickles at a very young age, early 60's. We were paid .03 cents a pound! Great Memories!!
Kirk A. Gaw
Love this picture!
Noral Baughman
We used to get a gallon of pickles from them. You are right; they were so good! :-)
Laurie Nelson
This would be Ira Klinedinst at an early age
Kirk A. Gaw
Awesome find!
Kirk A. Gaw
The man standing in the middle might be Harold Gaw? I believe he worked for Heinz. Sure looks identical to him.