Yes, indeed, she was my "Ideal Lady". As you may recall we had an organization for girls in our Tyner High School called the Sunshine Girls. We instituted an effort to recognize ladies in the community that we, as individuals, particularly admired. Besides my dear, dear mother, May Belle Killian who was my perfect "ideal lady", Hazel was absolutely unquestionably my next choice. I chose Hazel for this honor as many years as the law allowed.

In the Sunshine Girls we would do special things for each other throughout the year and then we had a party at the end of the school year. Such nice memories! I still have the suitcase that Hazel gave me at the 1953 year end party shown in this picture.
We had the joy of also having her and the family as next-door neighbors for a number of years. It was fun sharing garden items with each other during the spring and summer months and to just run over for a quick chat now and then.

I can't remember when I didn't love and respect Hazel. It was so fun to be invited to their home on Saturday nights. You see, we (the Killian's) didn't have TV yet at that time. Cy would come in from the week on the road in his big Mack 18-wheeler; he, his handsome sons, my father, and my 3 brothers all enjoyed watching the wrestling matches together. Hazel, Mom, and I would sit around the kitchen table and talk and just enjoy being together. We kept the snacks going to the living room for the fellow's TV fun. We prepared huge bowls of popcorn and served the largest chocolate sundaes you have ever seen. WOW, my brothers and I thought we were in "heaven on earth"....all the ice cream and pop corn we could consume and TV too. To top all of that, we had such tremendous fun and laughter and we truly enjoyed each other's company. We could be ourselves and not worry about a thing. Hazel indeed, had the gift of hospitality and thankfully, we were frequently the happy recipients.

Hazel had her hands full raising 4 boys, and fine men they turned out to be. Each of her sons was different and with different talents, but good men who served community and country.

Hazel had many attributes that I have tried to emulate throughout my life. She was open, honest, non-judgmental, kind, compassionate, positive, upbeat--just to mention a few of her character traits that I admired so dearly.

I did keep in touch with Hazel over the years and I enjoyed every encounter. My only wish, of course, is that I had done it more. I have kept all the letters, which she sent me, and I shall treasure them forever. Even in her later years, her writing was much prettier than mine and always on very straight lines. I was honored that she took the time and effort to keep in touch as she did.

During our early school days, she saw to it that Lewis gave me a gift now and then, which, of course, thrilled my heart. And this in turn, made my girlfriends jealous.

I was so very happy when I was privileged to come to Hazel's 100th birthday party. What a joy to be there for that occasion; I loved seeing her enjoy her friends and the good food that Joyce prepared, and to celebrate this wonderful lady's life.

For this event, my brothers and I showered her with a variety of flowers--maybe a bit extravagant, but if Hazel enjoyed them, then by thunder, it was worth it and we met our goal to bring her joy!

While Hazel still lived alone, I called a little late one evening; I actually hit the wrong button on the telephone as I had intended my call for someone else. When Hazel answered and heard my voice, she said, "Oh, hi Patty. How are you doing?" Well, I was shocked that she recognized my voice, remembered my name, and mainly that she was still up at that hour. What a joyful mistake for both of us; a delightful conversation ensued.

I have a picture of Hazel on my desk, which has been there for years and I love it.

I never heard Hazel ever complain. In fact, I never heard her speak ill of anyone ever! How I would like to be more like my precious friend.
Thanks to everyone who brought her joy and comfort. That means, of course, a special thanks to her sweet daughter by marriage-Joyce. What an angel Joyce has been; God will reward you greatly for taking such good care of one of His children!! Bless you, my dear.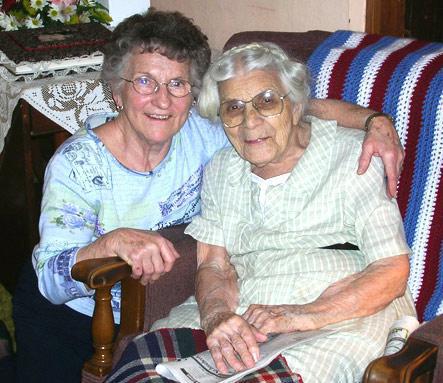 I shall continue to celebrate the life of Hazel Sarber. I will long remember with fondness all the good times together. I shall recall the goodness she brought to this earth through her multiple ongoing kindnesses of spirit and of giving. I look forward someday to join her in Heaven.

With fond memories of my dear friend Hazel,
Patty (Killian) Schultz
July 2011